The Digital Phenotype
* Data generation of existing and new traits
In the plant breeding and crop protection industry phenotyping is one of the most crucial aspects of product development. It requires significant experience by breeders or agronomists and even then objective and robust phenotyping in a high throughput manner is a great challenge. Digital phenotyping offers a solution for this. The digital images are analyzed with algorithms which ensure a robust and reliable output.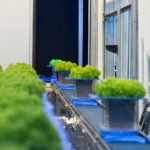 PhenoFab®:
This service technique has already been implemented in the company's greenhouses for several years. Phenotyping is performed by cameras and a conveyor belt transports plants through different scanning areas. The capacity: 400 plants, which can be automatically monitored day and night. The plants are subjected to conditions that mimic those found in the fields where they will be grown by KeyGene's clients, with the same watering conditions, sun exposure, temperature and soil type. The company's researchers are then able to compare the results obtained with the genetic profile of the plant, making it possible to investigate characteristics such as colour, architecture, leaf-shape and water content. KeyGene is the first company in Europe to offer this service to their customers all over the world. 

Seed treatments, a showcase in sugar beet
Sugar beet production can be heavily impacted by infection with Rhizoctonia solani, a fungus in the soil that can affect production and quality. Seed treatments can be an effective solution, but evaluation of these products is time consuming and challenging. Particular as field trials take a full season, and are prone to spatial differences, seasonal influences and artificially high infection levels. A recent project showed that PhenoFab offers a solution to all these problems. Plant conditions and R. solani infection were initiated and monitored at individual plant level. The results showed the initial seed performance during germination, mortality of seedlings, and the performance of the surviving seedlings in terms of size, plant color and roots. As the results are much earlier available than traditional field trails, customers can directly use the data for selection purposes, optimalisation of products, or in their marketing.
* Custom-made algorithms based on deep learning
* Virtual Reality tool for the visualization of all possible data
As DNA sequences of crops are unraveled at high speed on daily basis genome information is no longer limited in crop improvement processes. Therefore KeyGene invests significantly in phenotyping, the current bottleneck in plant breeding. KeyGene does major investments in (1) digital & robotized phenotyping, (2) big data handling & analysis and (3) visualization of phenotypic data. With respect to visualization of big data and reporting, KeyGene researchers have developed the Virtual Reality Breeding tool.

Arjen van Tunen, CEO KeyGene about this highly innovative tool:

"A single research project within our digital phenotyping facility with, for example, 1,000 plants generates a huge amount of data. The 1,000 plants will be captured in nine images a day, seven days a week and for five weeks strait. That means that after one experiment over 300,000 digital images have been produced which have to be analysed and its data handed over to the customer. This is truly big data! It requires a complete new approach to data handling and reporting."