Precision Breeding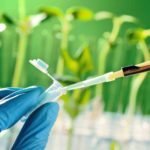 By inducing mutations in functionally validated genes, for example by Genome Editing, the Precision Breeding platform delivers levels of trait expression beyond the existing range of phenotypic expression.
This enables IP protection and delivers (pre) breeding material or even true to type varieties with one superior trait. Creating crops with improved traits such as reproduction traits, biotic and abiotic stress, via high precision genome editing.
KeyGene uses protoplast systems for several precision breeding technologies.
* KeyPoint® Breeding and other techniques for random and selected mutations
Great varieties often still have some aspects for which they could be improved. Here is where breeding at the gene level can help: individual genes that control such less-than-ideal aspects can be altered using modern gene-editing techniques. The result is a precisely enhanced product that maintains the overall so appreciated qualities of the original variety. KeyGene offers a variety of proprietary and licenced genome editing techniques for use in breeding research projects. Based on the specific questions and needs, we advise our partners about the best strategy and techniques to be applied.